BRIDE TO BE HEN BUNDLE - THE ULTIMATE HEN PARTY GIFTS
Going on a hen?  We've got you covered!! 
Build your own Hen Bundle to give to the Bride/Husband to be!  It's super easy to do, select your products below to build your bundle then upload the photo of the husband/wife to be.  We'll crop the photo for you (don't worry) - we'll then print everything and get it out to you super quick ready for your hen party!
Basic Hen Party bundle includes: (£24.99)
- Tote Bag (with either Future Mr/Mrs or Just Mr/Mrs) - Please specify below
- Coin purse (with either Future Mr/Mrs or Just Mr/Mrs) - Please specify below
 - 10 Hen Bingo Game Cards
- 10 What's in your bag Game Cards
- 10 How well do you know the Bride Game Cards
- 75mm Badge(with either Future Mr/Mrs or Just Mr/Mrs) - Please specify below 
- 75mm Pocket Mirror (with either Future Mr/Mrs or Just Mr/Mrs) - Please specify below
What can you add: 
- Flip Flops 
- Socks
- Passport Cover
- Luggage Tag
- Keying 
- 75mm Future Mr/Mrs Mirror
- 10 Penis Straws
- 75mm Bride's Bitches Badge 
- Husband/wife to be Face masks
- Mug
Recommend this product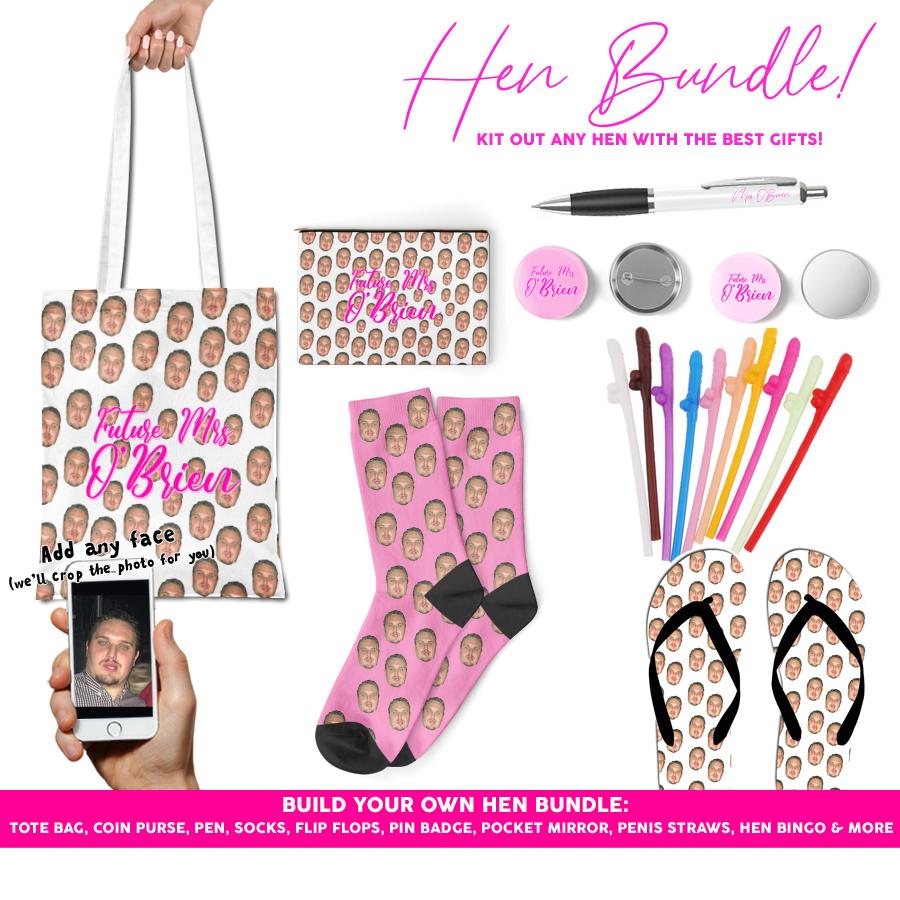 BRIDE TO BE HEN BUNDLE - THE ULTIMATE HEN PARTY GIFTS