Adult Banter Milestone Cards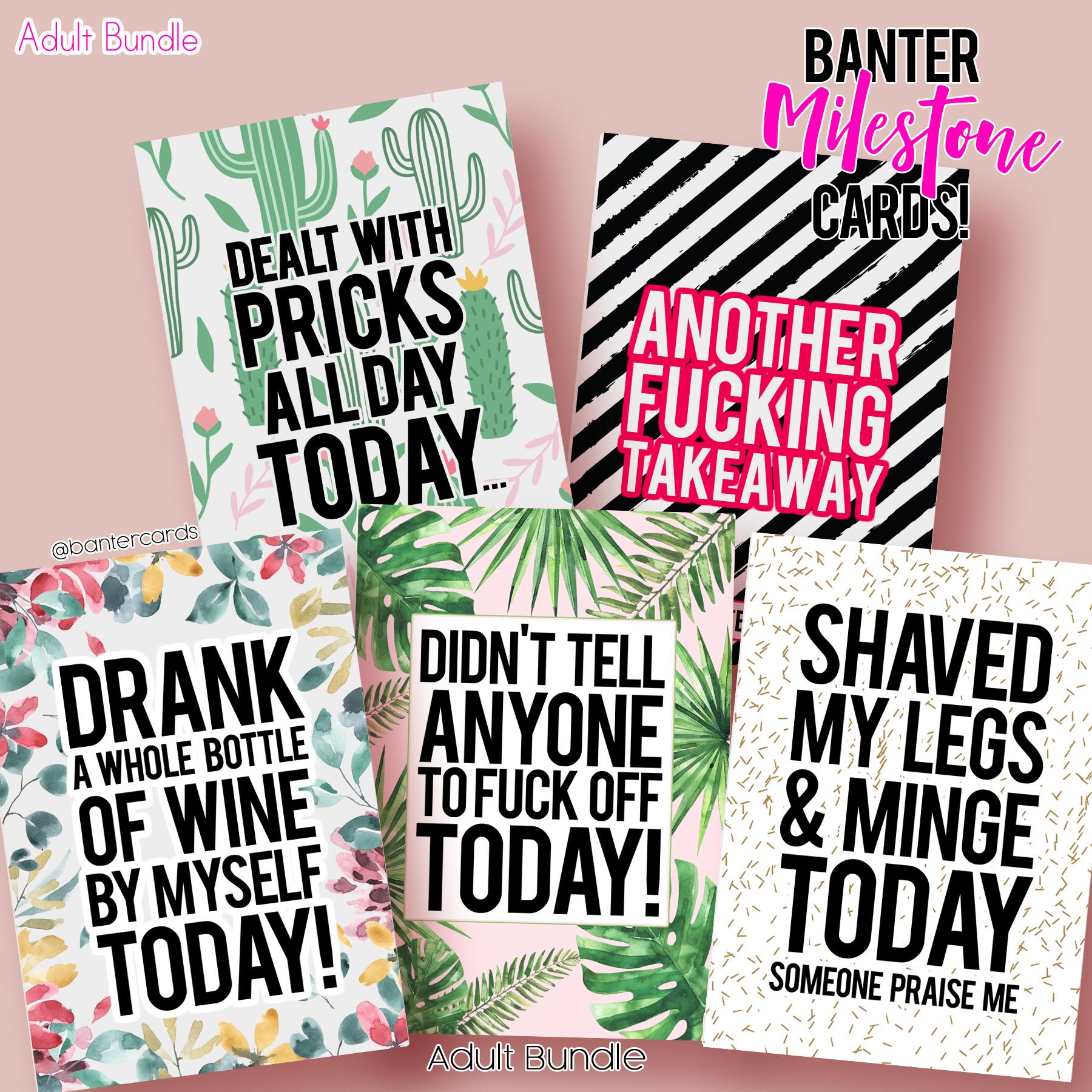 Help your adult friend get through the shit days with our Banter Milestone Cards... perfect to capture those moments you want to keep forever! Just to warn you they're NOT for the easily offended but they make a bloody brilliant gift!!


Card Info
- A6 glossy one sided card - Front is matt for you to write on
- 40 cards related to all funny shit adults do
- 350gsm high card
- Packed in a cute box
What's in the box?
40 mother fuckers 

4th load of washing.  Kill me now

Another Fucking Take away

Bought a house. Skint for 25 fucking years

Can't be fucked to adult today

Can't cook for shit 

Cleaned the whole house, got no fucking praise

Dealt with pricks all day today

Didn't want to punch a customer in the face today! Employee of the week!

Didn't call in sick today 

Didn't tell anyone to fuck off today

Drank a whole bottle wine by myself today 

Feeling cute might delete later 

First Grey Pube - Cunt

House Slave

Hungover as fuck 

I didn't murder anyone today

I fucking hate humans

I made the mother fucking bed bitches 

I'd rather be at home masturbating 

I'm having a midlife fucking crisis

Just living my debt life 

Living my best life - by best I mean really average 

Managed to cook a meal today 

Managed to wash my hair today

Married mother fuckers

My body is 99% Prosecco 

My house is a fucking mess - not even sorry 

Need Botox but can't fucking afford it

Old enough to vote but still too fucking dumb to understand what's going on 

Only did this for Insta

Practically dead

Put the bins out today

Shaved my legs & my minge today - someone praise me 

So old my fanny doesn't bleed anymore 

Too old to be this fucking childish

Voted! Fuck knows what for. 

Warning! I'm a cunt when I'm on my period 

Wine is my crack

Wine o'fucking'clock
Upgrade your pack & add on the 16 Mum Cards for an extra fiver: 
Extra Cards are: 
Wish these kids would cook for them fucking selves
Didn't lose my child in in the supermarket today! Top mum...
My kids are being twats today 
Regretting having these fucking kids today 
Fuck the kids, give me a wine!
Have kids they say.. It'll be fun they say!! 
Fed my child something other than bread and pasta today! 
Made another "mum friend" in playgroup today...FML!
School mums are Judgy cunts
Got this kid dressed and out of the house before 9… Mum of the year
Just had my first uninterrupted shite
Hid in the toilet eating secret snacks
Forgot to pick the kids up today
I pee when I sneeze
Can't be fucked to be a Mum today - save me
The school run can suck dick!
Earn
60
reward points with this purchase
Add This Product To Your Wishlist